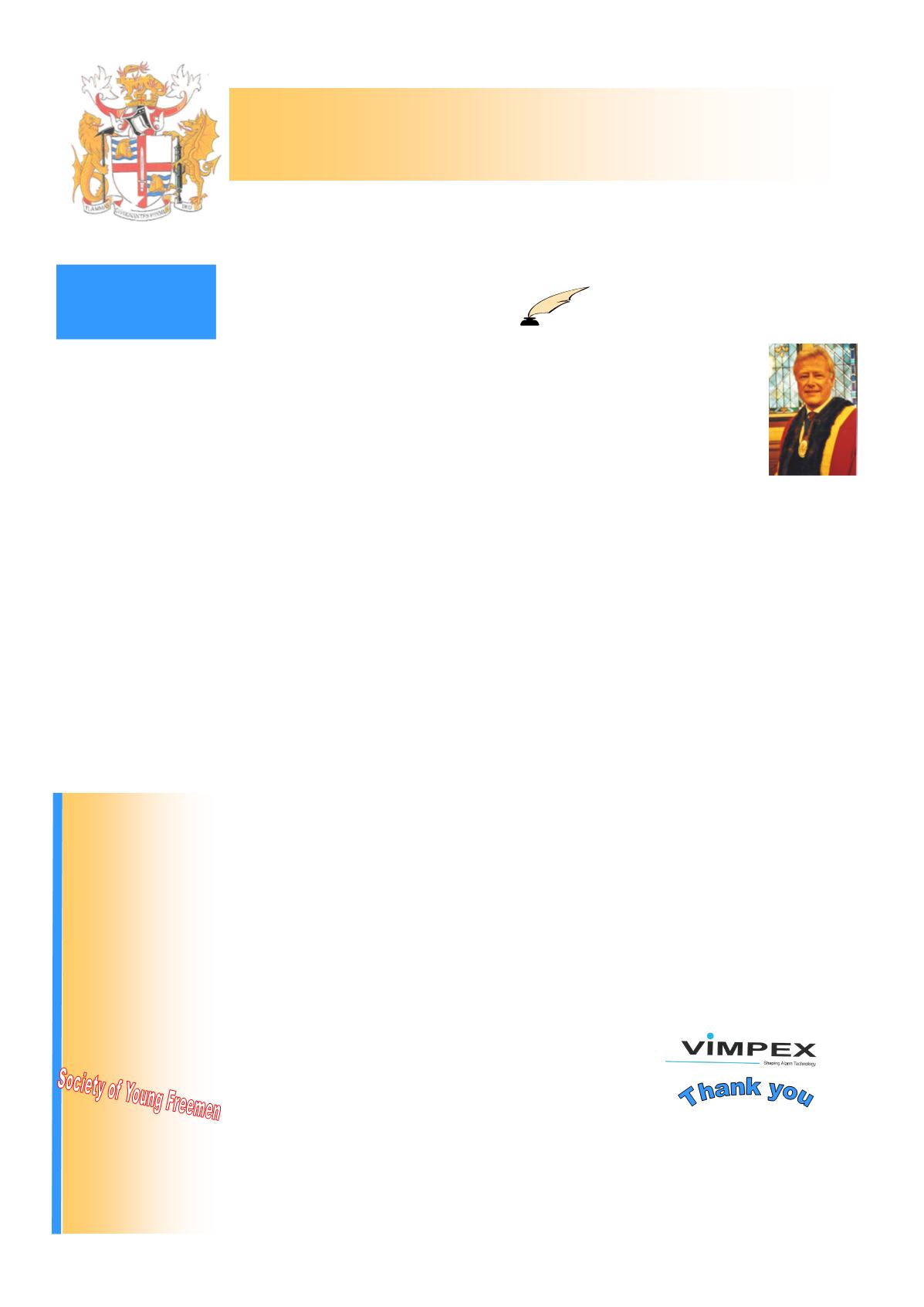 T H E M A S T E R ' S P E N
N E W S L E T T E R O F T H E W O R S H I P F U L C O M P A N Y O F F I R E F I G H T E R S
O C T O B E R 2 0 0 3
I S S U E 2
T H E S A L A M A N D E R
I N S I D E T H I S
I S S U E :
T H E M A S T E R ' S
P E N
1
O U T A N D
A B O U T
2
T H E A R M C H A I R 2
O P E N F O R U M 2
T H E C L E R K ' S
D E S K
2
F I R E F I G H T E R S
M E M O R I A L
T R U S T
2
S P E C I A L
P O I N T S O F I N -
T E R E S T :

The Master's Pen
- the
corporate way forward.

The Fire-fighters
Memorial
"
How often misused
words generate mislead-
ing thoughts" - Herbert
Spencer.
What do you know of them?
More in next issue..
I am pleased to report that progress is being made on many fronts.
Thanks to our Editor and judging by the comments of many of our members,
the first issue of our news letter 'The Salamander' has been well received.
An article, a comment or just a word of support will go a long way in build-
ing team spirit. Let Peter know your views!
May I thank those members who have taken up my offer to raise matters
directly with me. I have listened with interest to some very useful and en-
couraging suggestions. With all honesty, the views expressed have been very
supportive of the efforts being made for our way forward. Although there is still much to
achieve, your committees are working with tremendous enthusiasm.
It is my intention to seek ways to make the important decisions taken by the Company,
together with financial reports, more readily available to our members. More on this
later.
Upon receiving Worshipful status, the Aldermanic Court set us an upper limit of 250
Liverymen. For those Freemen of the Company who have not yet applied for their right to
become a Liveryman, now is the time. A revised procedure has removed the two year
time constraint before advancement from Freeman to Liveryman. We are expecting an
increase in applications for new membership to shortly take place. Successful applicants
will also be able to advance to Liveryman without the previous two year wait. Naturally,
it is our wish that existing Freemen should be given the first opportunity to apply for ad-
vancement to Liveryman. Please do not miss your opportunity for progression as this
privilege will be made available to all future new members.
Since my election, I have endeavored to accept and attend every invitation we have re-
ceived. Of course, a Buckingham Place garden party and Livery diners are splendid occa-
sions. However, it is the numerous talks, presentations, exhibitions and charitable events
that have given me a far greater insight into the Livery, its work and most importantly
the opportunity for future involvement for your Company.
Fellowship, a feeling of belonging and involvement, is the team spirit that I wish to pro-
mote for all our members. It does of course take time and effort to organise such events
that underpin this direction. But it is already happening. The atmosphere at 'The Pudding
and Pie' luncheon was extremely uplifting, with many of our members asking for more of
the same. How wonderful it was to have seen some members who have been off the
scene for a while. I sincerely hope we see more of you and others in the future. A warm
welcome awaits you!
All members will, in the near future, receive a ques-
tionnaire. It is our aim to develop your Company by
taking into account your wishes and expectations.
PLEASE make time to complete and return your ques-
tionnaire and help us further prepare
your
'Worshipful
Company of Firefighters' for its future.
Yours,
Colin J Livett
Colin J Livett
For your support in printing
& distributing this
newsletter