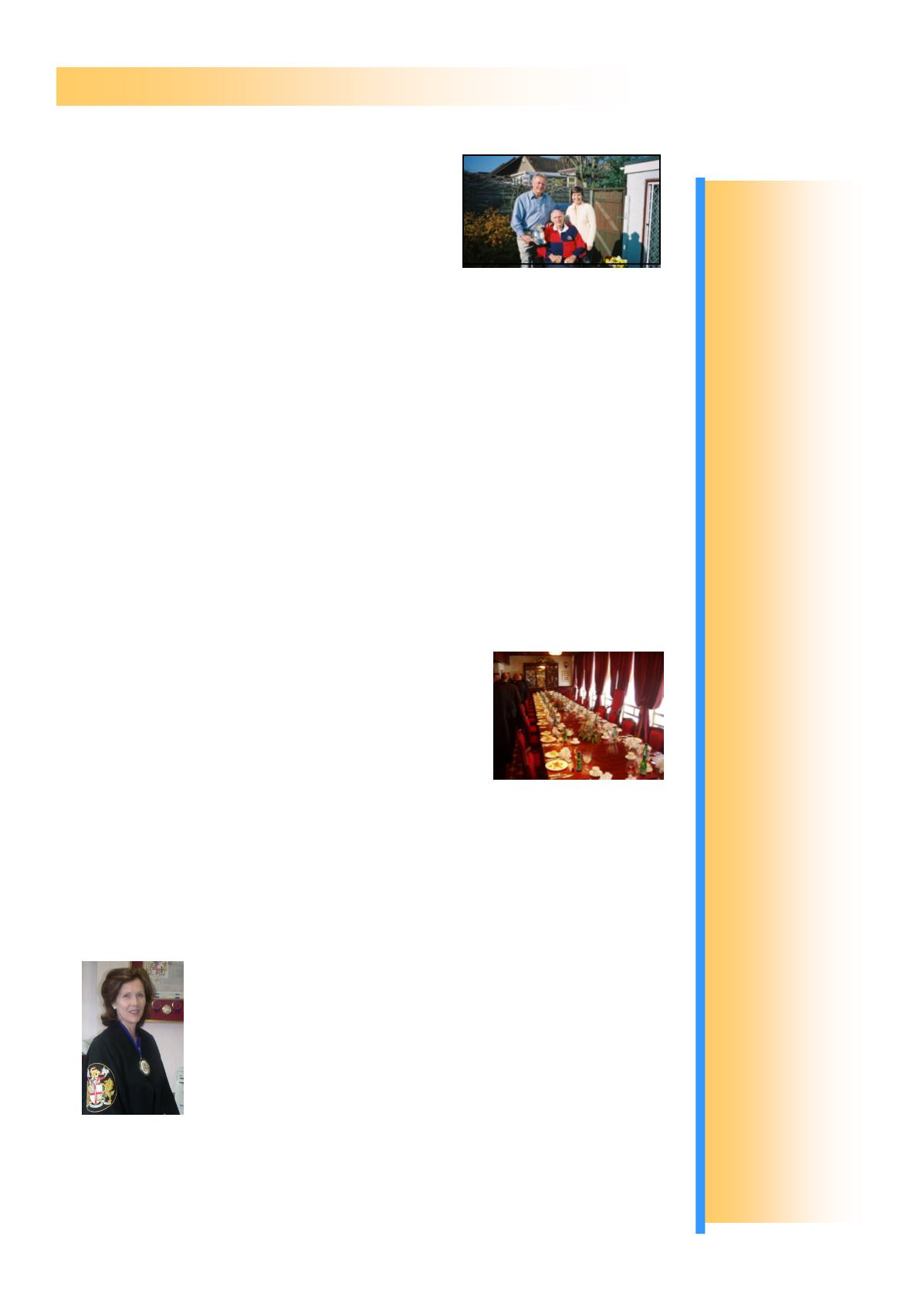 Open Forum
The Clerk's Desk — The Lord Mayor's Show
T H E A R M C H A I R —
S I L V E R F I R E H E L M E T P R E S E N T A T I O N
Page 2
I S S U E 5
As Master and as a friend, I received a request to visit Court As-
sistant Ron Bentley as he wished to make a presentation to our
Firefighters Company. Patricia and I visited Ron and Helen at
their home in East Sussex on the 16th April. Ron had been diag-
nosed with motor neurone disease. With the love and support of
his devoted wife Helen, he fought against it's effects with great
courage and dignity. Yes, Ron did look rather frail sitting in his motorised wheelchair and communi-
cating via his electronic speech box. I was determined that my visit should be a happy occasion for
us all. I quickly updated Ron on events within our Company, putting a humorous angle whenever I
could. Within a few minutes Ron was not only smiling but laughing and giving me humorous re-
sponses via his electronic speech box. If I am honest, we both had glazed eyes but I am convinced it
was due to recalling memories and experiences we both had shared over the last forty years.
Helen produced a large cardboard box containing the gift that Ron wished me to personally re-
ceive as 'The Master' of The Worshipful Company of Firefighters' on behalf of our members. I care-
fully removed the layers of protective wrapping to reveal Ron's beautiful gift, my eyes glazed for a
second time, it was a superbly restored Victorian silver fire helmet. The original crest had been re-
placed with the Coat of Arms of The Firefighters Company. I promised Ron that his gift would always
have a place of honour at future Firefighters
functions.We
then spent a little time in Ron's garden
where tea was served and photographs were taken to record this very memorable but above all
happy day! Ron's energy was now fading and it was time to say farewell. A kiss from Helen, one of the
perks of being Master, an embrace with Ron and that extra little squeeze in our handshake and it
was time to go
One week later, I formally presented Ron's gift at our Court Meeting and ensured it had pride of place
at the Court Luncheon which followed. I telephoned Ron and Helen the
next day to tell them just how well the gift had been received, not only
by the members of Court but by all our visitors who attended luncheon
that day Sadly, Ron passed away at home on Sunday 16th May. I rep-
resented The Firefighters Company with others at Ron's funeral.
Ron had been actively involved in many organisations and it was a
testament to his memory that the church was overflowing. Helen
spoke about her life with Ron. The insight she gave us was most moving, the eloquent, dignified and
loving manner in which she addressed us would have been exactly what Ron would have expected
and he could not have asked for more.
Grand Stand Seat Application
Saturday, 13
th
November, 2004
This year The Worshipful Company is joining with a group of eighteen Modern Com-
panies to welcome the new Lord Mayor and to take part in The Lord Mayor's Show. l
will be applying for a block of seats in the Grand Stands at St: Paul's Cathedral. The
ticket price is £22.00 per person and this includes a copy of the official programme.
All seats must be occupied by 10.45am. Please remember to allow enough time to
reach your seats, bearing in mind the route closures and the size of the crowd. St:
Paul's Underground station (Central Line) is close by.
A buffet luncheon will be held in The Insurance Hall from 12.30pm. The other Companies taking part
will also be inviting their members and guests to come along to the buffet lunch, and as numbers are
limited, please do book quickly so not to be disappointed! The price of the lunch is £19.00, not includ-
ing wine, which will be £14.00 per bottle (£7.00 per half). Lunch for children under 12 years, will be
£12.00. Please your requests no later than Friday 17
th
September, 2004