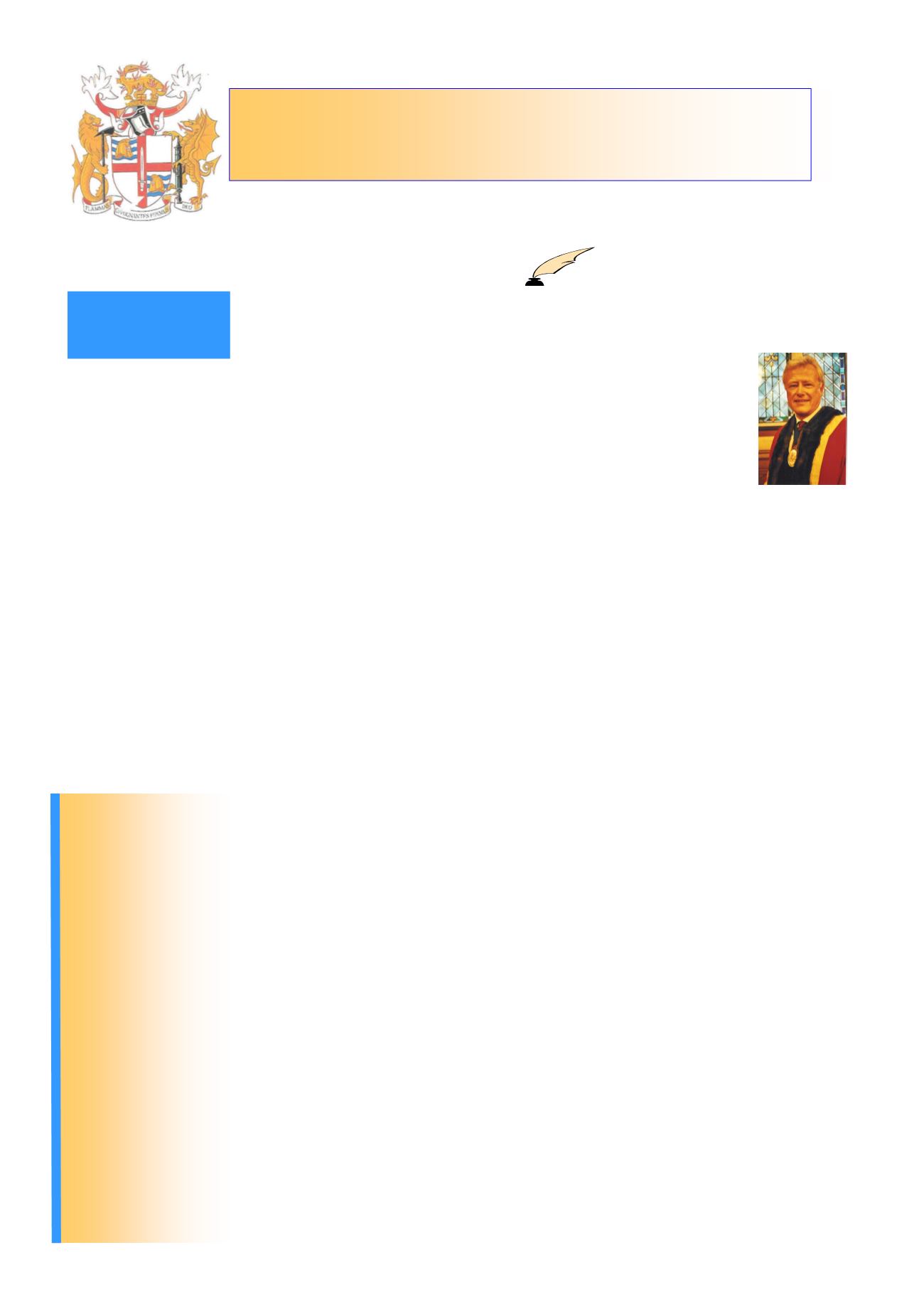 For your support in
printing & distributing
this
newsletter
T H E M A S T E R ' S P E N
Inside this issue:
N E W S L E T T E R O F T H E W O R S H I P F U L C O M P A N Y O F F I R E F I G H T E R S
D E C E M B E R 2 0 0 3
I S S U E 5
T H E S A L A M A N D E R
T H E M A S T E R ' S
P E N
1
W H A T W A S
S A I D ?
2
T H E A R M C H A I R
2
T H E C L E R K ' S
D E S K
2
O P E N F O R U M
2
F O R T H C O M I N G
E V E N T S
2
S P E C I A L
P O I N T S O F
I N T E R E S T :

The Master's Pen
- Garden of
Remembrance

What was said?
— A small
competition
No man thinks there is much ado
about nothing when the ado is
about himself - Trollope
As you will have noticed, this issue of 'The Salamander' has a new presenta-
tion. My sincere appreciation to our Editor Peter Hopkins and Court Assistant
elect Vivian Jones and his company Vimtex for their continuing sponsorship
This will be my last opportunity to write to you as 'The Master.' Since issue
number one I have tried to focus upon future opportunities and goals to
achieve, rather than report on the splendid invites I had been privileged to
attend. Due to the enthusiastic support I have received we have made significant advances
on all the targets I set myself at the commencement of my year, as well as some set me by
others!
With the approval of Court, I have this week secured agreement with The Sea Cadet move-
ment on a framework to establish a Fire Education Programme incorporating Health and
Safety. Ken Knight, London's Fire Commissioner, has offered his personal support for this
important youth program.
The main objective of my year was to create an atmosphere which would allow the benefits
of teamwork to be harnessed. I chose four words to form the criteria by which I would make
my judgements. They were SERVICE, FELLOWSHIP, HARMONY and HONOUR, old fashioned
yes, but still effective, if believed in.
The number of applications for Company membership is now increasing. However, much
work remains to be done on this the most important subject for our Company's future pro-
gress. Have you played your part? Sadly, three loyal members and supporters have past
away, John Richarson-Hill, Ron Bentley and Gerry Harsant. I together with others were proud
to represent our Firefighters Company at their funerals. It is intended to establish an asso-
ciation by which we can actively remain in contact with their loved ones. I think it would be a
fitting memorial to them all and not forgetting Peter Derbyshire and Norman Roundel.
Patricia and I will cherish the wonderful memories of 2003/2004 and the support so freely
given by the Court of Assistants the Clerk and our Officers. In closing, may I sincerely express
my appreciation to you all for giving me the honour of serving as 'The Master' of
The Worshipful Company of Firefighters
Yours ever,
Colin Livett
Master