<!########################################MAIN PAGE BODY CONTENT-->
Living with Covid-19 (C19).......another update
Living with Covid19 (C19)…….another update
(Convalescent Plasma Donation)
It is now a cold damp Friday in December 2020. More C19 restrictions have been announced and enforced in my County of Hertfordshire. Vaccinations have begun but more people are contracting C19 and its new variant. Hospitals are becoming overwhelmed.
I had been in contact with the Blood Transfusion team and had finally been allowed to resume donation of Convalescent Plasma.
My journey to Stratford by train was uneventful. I was still surprised to see individuals not wearing masks or adequately distancing. Stratford's Westfield Shopping Centre was extremely busy with shoppers. More so than on my previous visit three months earlier.
I had caught an earlier train so arrived forty minutes early for my appointment. Nevertheless I was allowed to proceed with registration. I filled in the required paperwork and read the unavoidable booklet that everyone donating blood must. The next stage was confirmation of the signed paperwork, heart rate and the haemoglobin (Hb) test.
Last time I was here it was at this stage that I was prevented from donating because my haemoglobin level was too low. Not so on this occasion, my Hb level was indeed a lot higher than the required minimum.
Next the consent form was completed and further explanation of the process and any possible side effects. Now it was time for the actual donation.
I was taken to yet another area where the equipment, a Plasmapheresis machine, was set up.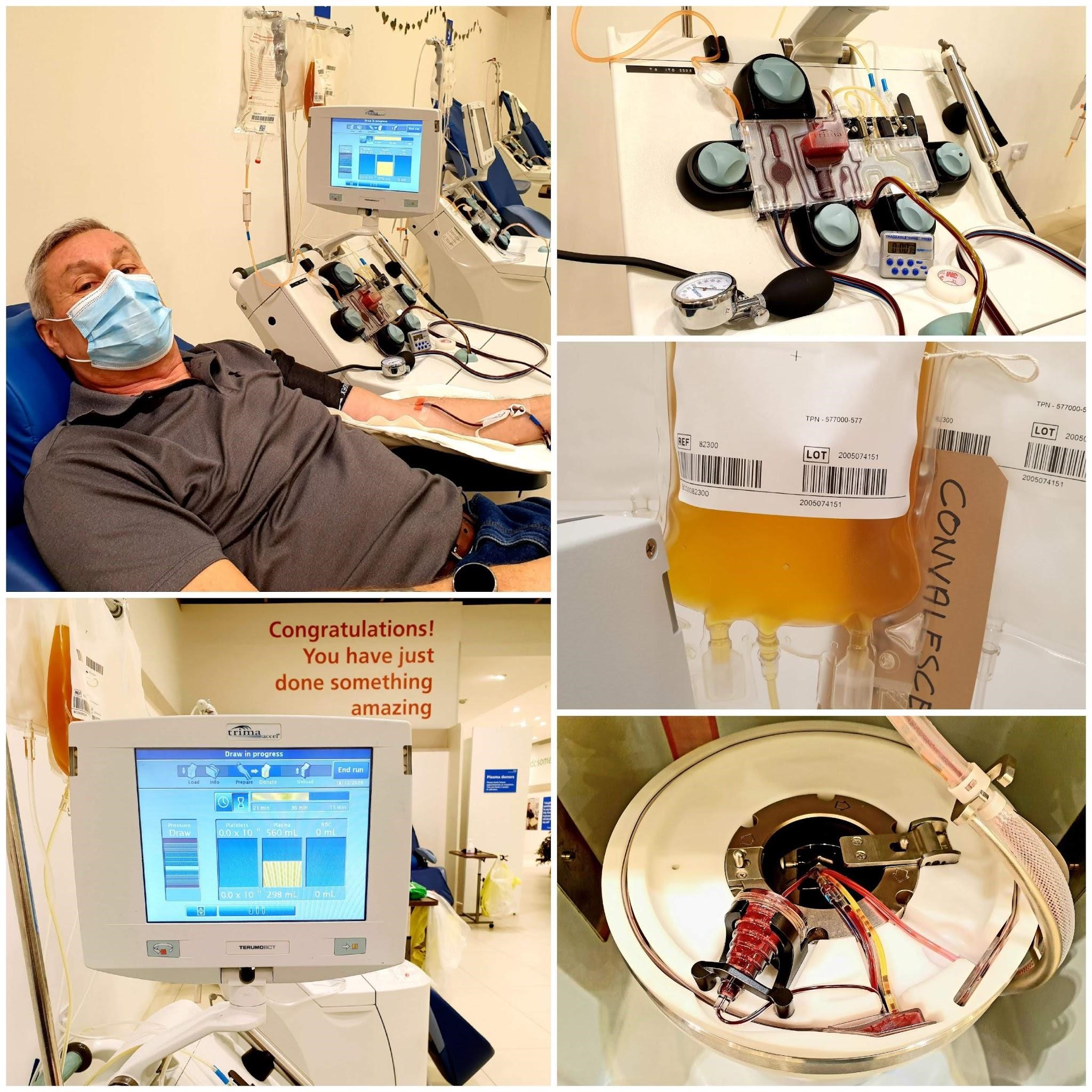 This machine removes the whole blood (which consists of blood cells and a clear, straw-coloured liquid called plasma) from the donor via a needle inserted in the arm. Plasma is then removed from the blood by a cell separator, an instrument that is essentially designed as a centrifuge. The separated portion, Plasma, is then removed and the remaining components are retransfused into the donor.
The attached computer is calibrated with the donor's details and the donor is prepared.
As soon as I was prepped the donation began. My individual expected time was for thirty-six minutes, some can take as long as one hour to complete the full process. The first few minutes were taken up removing or drawing blood from my arm. Shortly the process was reversed and consequently blood components were returned via the same needle into my arm. This continued with short periods of draw and return until the bag containing the removed Plasma was full, 560ml in total.
On completion all the tubes were heat-sealed, the needle was removed and while I made my way to the drinks/recuperation table the machine was sanitised and made ready for the next donor. Donors are required to wait for a while to ensure there are no complications or adverse side effects from the small amount of anticoagulant that mixes with the blood during the process.
Twenty minutes later I had booked my next appointment and was making my way back to the rail station to begin my journey home.
Postscript:
There are currently two clinical trials: REMAP-CAP and RECOVERY
The REMAP-CAP trial is an international trial into the best range of treatments for people with COVID-19. It is an adaptive trial which means different treatments can be added over time and patients can receive different treatments. The convalescent plasma treatment in this trial is for people who have been in intensive care for less than 48 hours and have tested positive for COVID-19.
The RECOVERY trial aims to compare different treatments that may be useful for people with COVID-19. In this trial, work is being done on the effectiveness of convalescent plasma for treating patients with COVID-19 who are in hospital, but not in intensive care. Around 2,500 people will receive plasma as part of the trial. Like the REMAP-CAP trial, they will receive two doses over two days. (nhsbt.nhs.uk)
The REMAP-CAP trial in intensive care patients is jointly led by:
Dr Lise Estcourt and Prof David Roberts - NHSBT Clinical Trials Unit and University of Oxford
Prof David Menon - University of Cambridge
Dr Manu Shankar Hari - Guy's and St Thomas' Hospital NHS Foundation Trust and King's College London
The RECOVERY trial is led by:
Prof Peter Horby - University of Oxford
Dr Lise Estcourt and Prof David Roberts - NHSBT Clinical Trials Unit and University of Oxford
Further information can be found at https://www.nhsbt.nhs.uk

Bob Bryant

<!########################################END OF MAIN PAGE BODY CONTENT-->