<!########################################MAIN PAGE BODY CONTENT-->
Keep safe when celebrating Diwali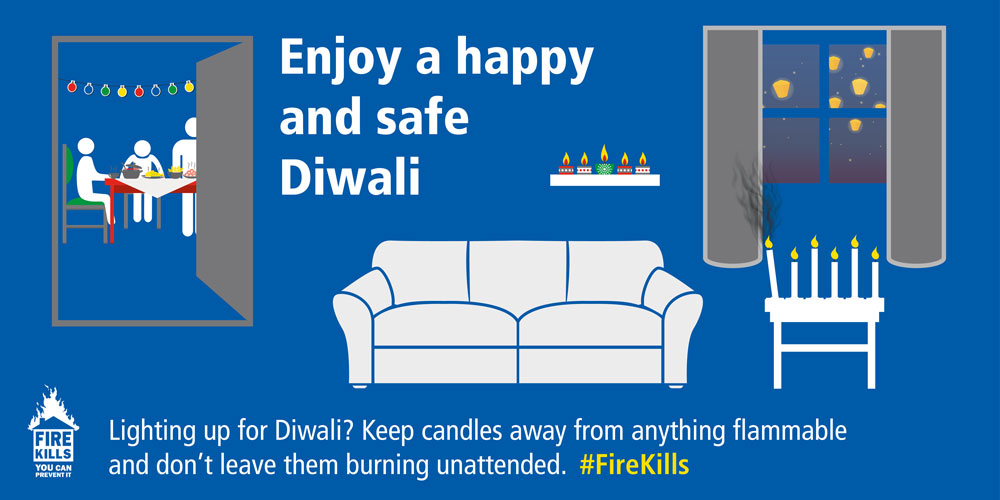 The festival of Diwali takes place every year this year it falls on 19 October. It is known as 'Festival of the Lights' as it is believed that light signifies goodness and 'diyas', or oil lamps, and candles are burnt throughout the day and into the night to ward off darkness and evil. Fireworks are also used in the celebrations.
The use of naked flames increases the risk of fire at Diwali, because of the use of diyas, candles and fireworks - but just taking a few simple precautions will reduce the risks for yourself and your family.

Please ensure that you have a working smoke alarm installed on every floor of your home. If there is a fire, a smoke alarm will immediately warn you, giving you and everyone in your home time to escape to safety.
Here's our simple tips for a safe Diwali:
Oil lamp and candle safety
Always place oil lamps and candles firmly in a proper holder so they don't fall over and on a heat resistant surface
Put out candles and lamps before you leave a room and before you go to bed
Keep candles out of the reach of children and pets
Keep candles away from ribbons, greetings cards and other decorations - these could easily catch fire
Keep candles out of draughts and away from curtains, other fabrics or furniture, which could catch fire
Keep candles away from clothes and hair - if there's any chance you could forget a candle is there and lean across it, put it somewhere else.
Consider using battery operated tea lights instead of traditional candles. Battery operated tea lights often contain a button cell battery these can be very dangerous so keep away from children.
Cooking Safety
Take extra care when deep-fat frying or cooking with oil - hot oil can catch fire easily
Use a thermostat controlled deep-fat fryer which will make sure the fat doesn't get too hot
Don't get distracted when you are cooking - turn off or turn down the heat if you have to leave the cooking unattended
Keep tea towels, clothes and electrical leads away from the cooker and hob
Make sure saucepan handles are not sticking out from the hob or over a naked flame
Remember to check that the oven or hob are switched off after you have finished cooking
Firework Safety
If you are thinking of using fireworks as part of your celebrations, please follow the Firework Code which you can find here: http://bit.ly/2fNgo5q

<!########################################END OF MAIN PAGE BODY CONTENT-->