<!########################################MAIN PAGE BODY CONTENT-->
Brixton Fire Station Mindfulness Garden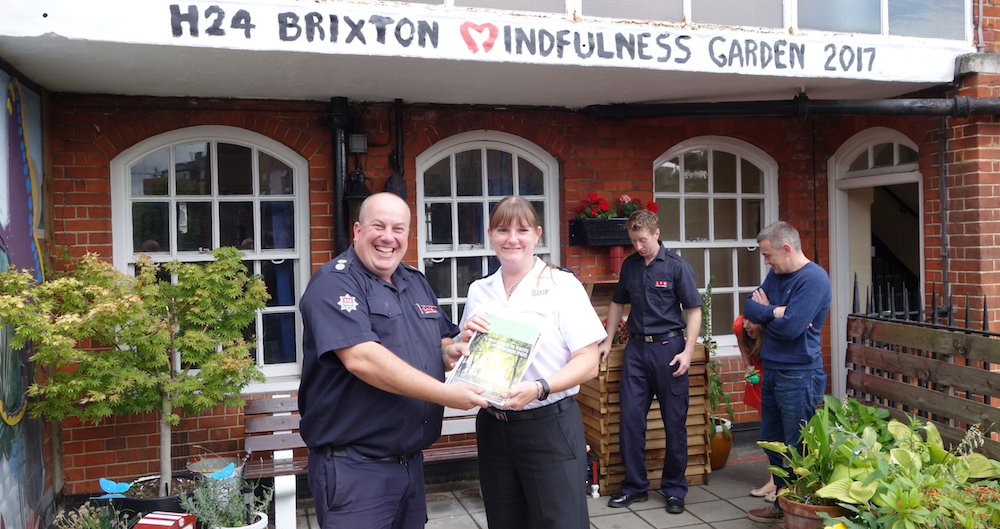 At the end of July a Mindfulness Garden was opened at Brixton Fire Station, the first within the London Fire Brigade. The event was attended by Liveryman David Holt on behalf of Immediate Past Master Bruce Hoad, at the invitation of Green Watch Station Officer Mat Rosendale.
Brixton Fire Station is one of the old-style London stations, built in 1906. It has open rear facing verandas at first and second floor levels and these have been converted to a garden area aimed at giving firefighters a dedicated space in which they can unwind, reflect and relax. All four watches and local environment groups contributed to the creation of the garden, overseen by Mat, with the assistance of the LFB's Green Champion, Simon Jakeman BEM, who created the LFB's entry at the 2016 Royal Hampton Court Flower Show.
Mat is a Blue Light Champion, one of a number of volunteers within the emergency services who raise awareness of mental health problems within the workplace . The scheme is run by the mental health charity MIND.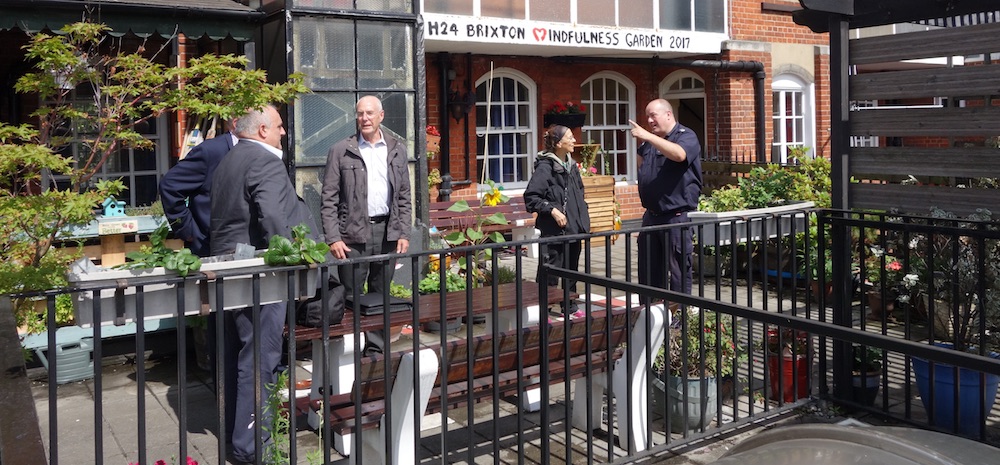 Mat says: "This brand-new mindfulness garden is the culmination of lots of hard work and effort. It has been a great focus on the station and brought all four watches together in a really positive way. Green spaces have a long-lasting positive impact on people's mental well-being and I'm proud that we can now offer firefighters a place to come to relax and unwind. Importantly, the Mindfulness Garden has raised awareness of the Blue Light scheme."
The garden was opened by the cutting of a tape by Miss Isabel MacDonald (daughter of Green Watch FF Paul MacDonald) and this was preceded by a fanfare by a Brigade bugler, raised to first floor level by Clapham's ALP.
The ceremony was well attended by London Fire Brigade senior officers, including the Commissioner, as well as representatives of neighbourhood groups. We wish Mat and the crews from the Brixton watches our heartfelt best wishes in this venture.

<!########################################END OF MAIN PAGE BODY CONTENT-->