<!########################################MAIN PAGE BODY CONTENT-->
Cutting the Ribbon at Salcombe Fire Station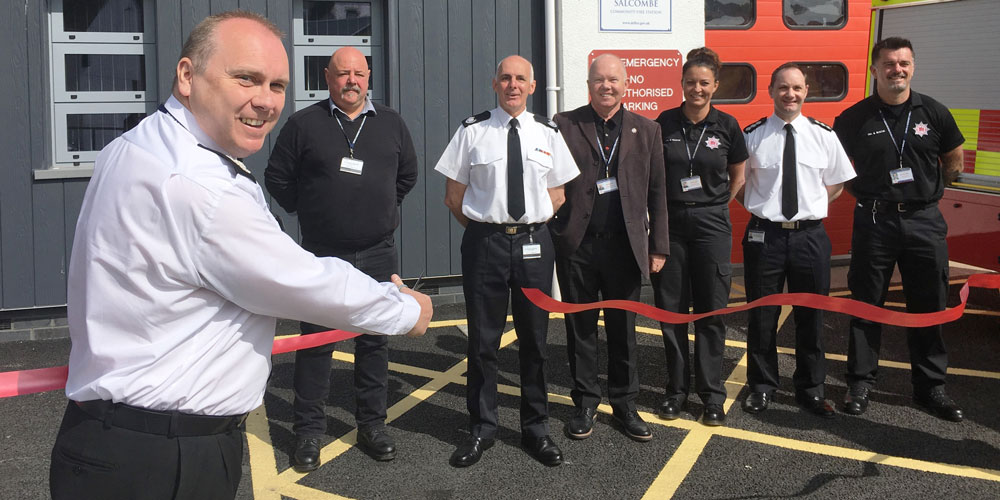 Pictured left to right - Chief Fire Officer Glen Askew. Paul Lees Property Manager, GC Dale Durante, Ken Cassidy, Head of Estates, SM Ros Clarke, LRM Matt Radford
Devon & Somerset Fire & Rescue Service are pleased to announce that the refurbishment of Salcombe Fire Station is now completed. The occasion was marked by the 'Cutting of the Ribbon' by Chief Fire Officer (CFO) Glen Askew.
CFO, Glen Askew said: "I'm honoured to 'Cut the Ribbon' for Salcombe Fire Station. Devon & Somerset Fire & Rescue Service have put a significant investment in supporting these new facilities that are fit for purpose. These enhance our ability to invest in and train our staff appropriately as well as providing a better place for them to work.
"The new extension meets modern day standards including green technology and is environmentally friendly, with solar panels generating the electricity. It demonstrates the fire service wants to make a commitment to its community, which is to protect the front line services and ensure that we have up to date, fit for purpose technologies and our crews know they are being invested in."
Paul Lees, Property Manager from the services estates: "We are delighted with the refurbishment of the fire station and I would like to thank Salcombe crew for their input to the design and their assistance throughout."
About the refurbishment
Under the approved capital improvement programme, Salcombe Fire and Rescue station was identified to be extended and extensively upgraded. The refurbishment objectives were to enhance the facilities with provision of separate muster, Breathing Apparatus, cleaning and drying area suitable for a modern fire & rescue service.
Outcome of the project
Enhanced efficiency and effectiveness of our Service Delivery through improvements in the quality and value of the asset.
Investment will extend the life of our fixed asset and reduce ongoing revenue requirements for maintenance.
Incorporation of green technology and modern materials will Improve thermal comfort and reduce overall building running costs and Carbon Footprint in-line with the current DSFRS Code for the Sustainable Design of Buildings and Engineering Systems
Bring the asset up to meet the current building regulations and Devon Somerset Fire Rescue Service sustainability and environmental design brief.
Provision of upgraded, fit for purpose facilities suitable for a modern Fire and Rescue Service.
Provide a better place to work with a positive impact to firefighter morale.
Investment in the local community asset.
Intelligent design giving consideration to privacy and dignity at work.
<!########################################END OF MAIN PAGE BODY CONTENT-->